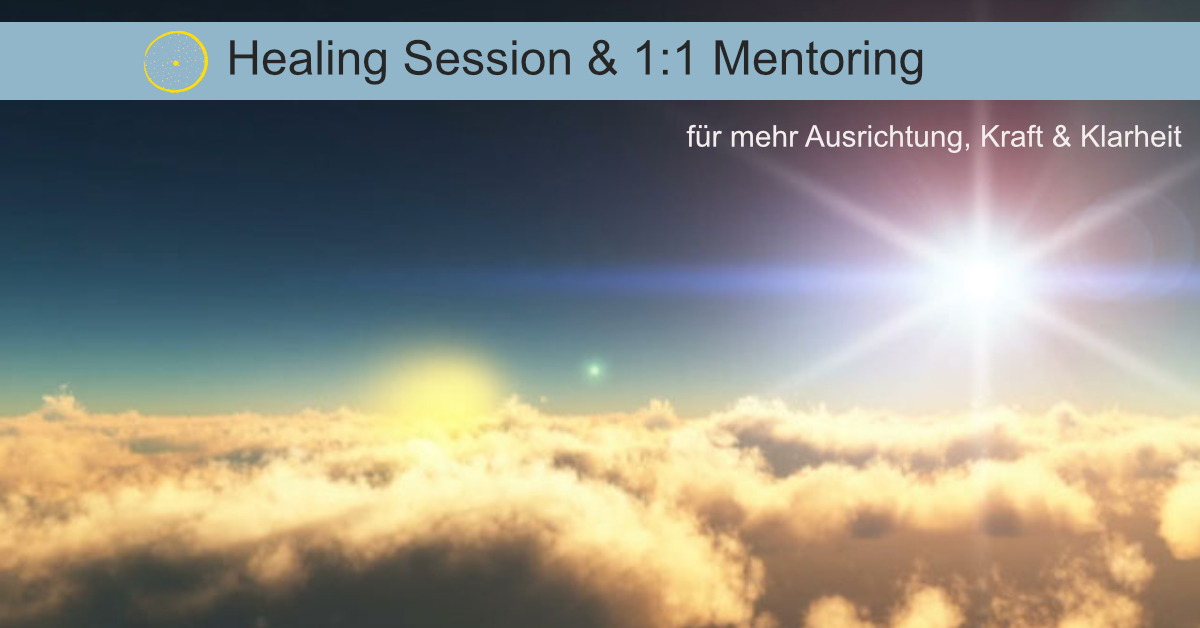 healing session & 1:1 mentoring  (individual session)
"for more alignment, strength and clarity in your life"
You don't have any clarity at the moment, you feel disoriented, tired, it no longer works properly in a partnership, you don't know where to go in your life or what the next steps should be?
Then you are exactly right with me. In my one-on-one sessions, I look with you to see where you are right now and how we remove blockages or stones on your way piece by piece so that your flow of life is activated again and you can live your potential and your light. In the individual sessions I work with intuitive & medial techniques, as well as the aura technique, energetic constellations, sound healing and quantum healing.
It gives me great pleasure to help and accompany people as a lightworker.
The treatment is combined with healing chants tailored to the client, which further enhance the effect.
This energy medicine is one of the new forms of treatment of the future
I am looking very much forward meeting and supporting you!
My sessions will help you with:

– Decisions
– Changes/reorientation
– Entanglements in partnership/family/occupation
– Emotional blocks
– Purification of the internal organs & energy body
– Self-esteem issues
– Activate & Live Vocation
– Connection to your higher & inner guidance
goal of the individual session:
– Joint exploration of the cause
– Eliminate the blockage using a variety of techniques as aura- cleansing at different levels, erase allergy & other physical complaints, cell & mind-reprogramming,
past life regression, magnetopathy, energetic constellationwork,
medial & personal mentoring, soundhealing,…
– Discuss the original topic or issue
Important here is the holistic view of body / mind and soul with the aim that the disease can dissolve in the best case.
The use of a treatment of health ailments is used to activate the self-healing powers and replaces neither the diagnosis nor the visit of a doctor.
PRICES:
one individual session 1:1
á 60 minutes – 95,-
á 90 minutes – 125,-
---
1 month mentoring 1:1 for 4 sessions á 60 minutes: 330,- (you save 50,-)
3 months mentoring 1:1 for 6 sessions á 60 minutes: 470,- (you save 100,-)
---
You can join via zoom online or offline
Feedbacks from clients about my healing sessions

"With her gentle and healing voice, Magdalena quickly brought me into a deep state of relaxation and my inner heart, in which I felt safe and secure.
She guided this process intuitively and I came to my blockages myself.
Through the inner work with the support of the spiritual world, they were allowed to be redeemed gently and easily.
Magdalena has a very good connection to the source and gently feels the right way. Her gentleness, calm, powerful presence and clarity were very touching and healing for me.
I recommend her to anyone who would like to make a change in their life. Thank you very much dear Magdalena for your work!"
Michaela K.

---
I had a severe ligament strain after a fall! Through the intervention of one of Magdalena's healing sessions, my pain and walking problems have disappeared! We have mentally and visually sent light into the painful parts of the body!
Today I was even able to climb stairs without pain!
My front foot was in front of it immobile, now I can move it easily!
Magdalena, your work is priceless! Thanks for that!
Ilse K.

---
After a long illness and severe emotional (ancestral) issues of demarcation/detachment, I wanted to be accompanied by Magdalena because her voice alone opens healing spaces for me and touches my heart. In combination with her wonderful instruments and her soothing, empathetic nature, I was able to let myself go in a very gentle way and work on the topics more deeply. Magdalena opened the space for subtle energies, colors and beings of light in such a loving and powerful way that I now feel very strengthened, feel myself more in my body and can now implement my emotional experience in my life. Thank you so much!
Johanna W.
---
I really appreciate Magdalena's work as a healer and I always come  back to her if I can't get any further myself.
With a lot of sensitivity and mindfulness, she goes with me to where change and transformation wants to happen.
She confidently guides me through the upcoming processes and solve them together with me. At the end of a session I feel that something has really moved in me, I feel connected to myself and have faith in myself and in life.
Thank you for your profound, loving and empowering impact!
Bodo R.

---
healing session is a really special experience.
I could feel my whole relax deeply at the cellular level. The sounds, and melodies channeled by Magdalena in her sung light language calm the mind, enveloping the body in a watty feeling of weightlessness and levitation, touching the soul in such a strengthening, joyful, yet transformative way.
A gift! I look forward to the next time. Thank you!
Ursula F.
---
Having arrived in your room, I could already feel the high energy, I immediately felt comfortable.
The sounds that you can create with your voice are soaring and affect the entire body, both the subtle and material bodies. You are a very bright medium.
Every sound was very effective, and in addition these heavenly sounds, created by singing bowls and other heavenly instruments – wonderful!
I could feel exactly how the vibrations were flowing through my body, how they worked. Through the sounds and sounds, I was both cleansed and healed on all levels. Blockages have drained, healing energies flowed in. I felt like I was in a wonderful healing temple, surrounded by beautiful beings of light.
Thank you very much!
Elizabeth B.
---
Magdalena Piatti has developed a very personal approach to helping people who find it difficult to recover healing sound vibrations. I have clearly felt a kind of liberation and enlargement in the trachea and chest cavity after their sound treatment and was in the truest sense of the word "livelier".
In addition, my upper body came upright and lifted my chin.
Magdalena's methodology is, in my opinion, very good for people who do not have access to the term "center" or "chakra" in their cervical or thoracic / cardiac regions.
I will recommend Magdalena to friends and acquaintances who have fears of breath, language and voice.
Tilo M